I checked a German website on chemistry where I found the call for applications for this position in Roskilde and I thought; why not Denmark? I had considered going abroad for a long time. I have spent much time in Sweden because my family has a summer house there. I have also been to Sweden (Gothenburg) on an Erasmus grant and thought that I would like to go to Sweden; but however, Denmark is closer.
When I had completed my MSc I was not sure whether I wanted to do a PhD or not. I started working as a research assistant because then I could get my research financed for two years. However, after seven months the financing was guaranteed for three years, and then I started on my PhD programme.
How was it to start?
It was really great; I have nice colleagues here and a good working environment. We were two foreigners who started working on the same day, and together we figured out a lot of things. At first, it was difficult to get into contact with others outside the working place, especially the Danes. I quickly met other PhD students from Aarhus University and the Danish Technical College, but almost all of them were foreigners like myself. But this quickly changed when I started sailing viking ships in the boat guild at the Viking Ship Museum. It was also a really good way of learning Danish.
At the beginning I could read a little Danish, but I soon started on a Danish course to learn the language. However, I have not spoken so much Danish at work because we are so many foreigners here; therefore I have learned most of it in my spare time. But now I am speaking Danish with my Danish colleagues, meaning that every day I speak a little mixture of Danish, English and German.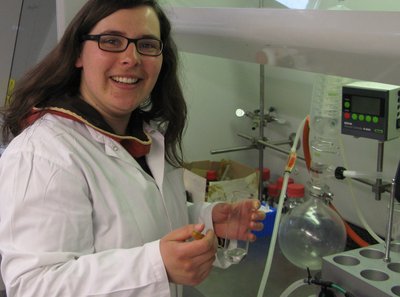 Ulla Bollmann
Mail: ueb@dmu.dk
MSc in Environmental Chemistry, Friedrich-Schiller-University, Jena, Germany
PhD project: Biocide leaching from building material
Supervisor: Kai Bester