Robotic solution to SMEs manufacturing under Industry 5.0 – the learning-based control methods for a collaborative industrial mobile manipulators
PhD defence, Sunday 28 October 2022, Zhengxue Zhou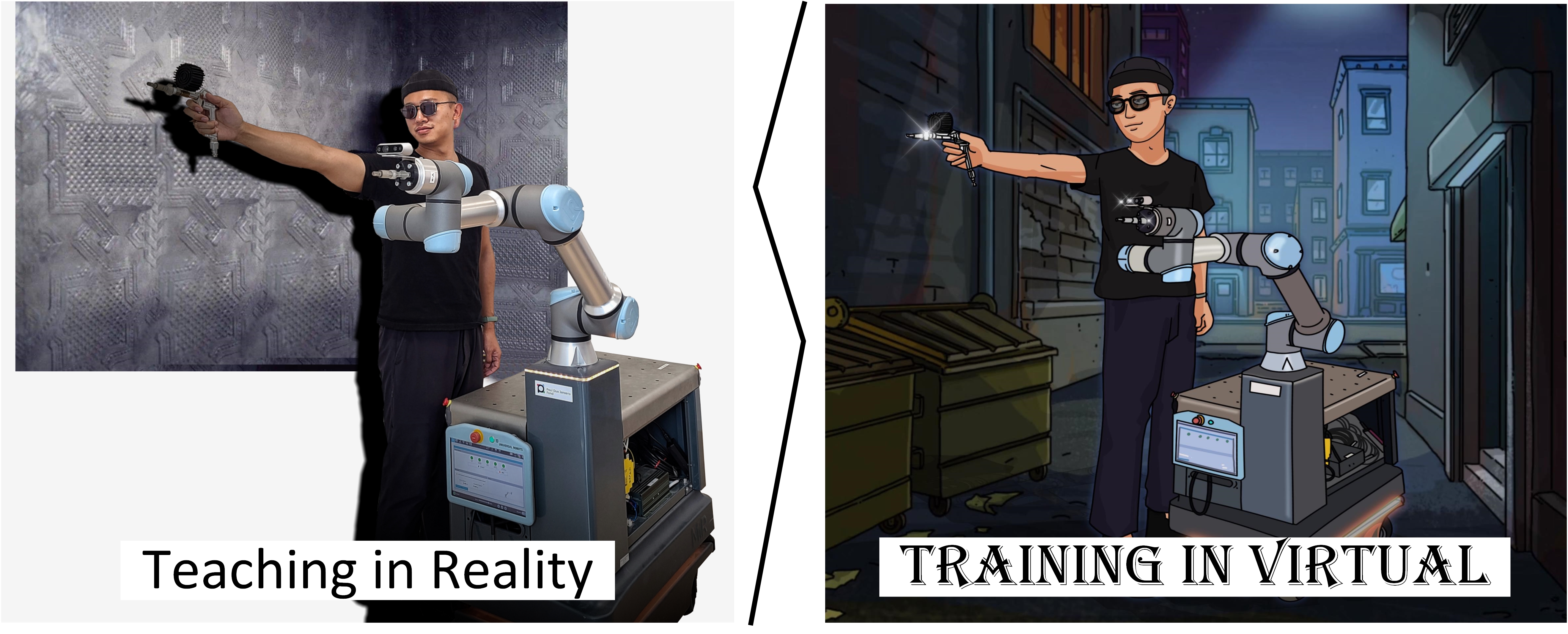 Will the new wave of robotics and digital development to address labor shortages caused by the Covid-19 crisis be an opportunity for small and medium-sized enterprises (SMEs) or a threat to factory workers' jobs? How could workers teach robots in a human-centric way to promote resilient and sustainable business models for SME manufacturing?
With those two questions, Zhengxue Zhou researched the learning-based control issues of collaborative industrial mobile manipulators to promote automated SME manufacturing by treating robots as humans' apprentices shown in the above figure. Zhengxue Zhou studied how cutting-edge robots integrating with artificial intelligence algorithms, digital technologies, and computer vision techniques contribute to real industrial production and solve the specific difficulties faced by SMEs.
Zhengxue Zhou's study provides a new perspective on the robotic solution to contribute to SME manufacturing and workers' re-skilling.

The PhD study was completed at Department of Mechanical and Production Engineering, Faculty of Technical Sciences, Aarhus University.
This summary was prepared by the PhD student.

Time: Friday, 28 October 2022 at 13:00
Place: Building 3210, room 03.046, Inge Lehmanns Gade 10, 8000 Aarhus C, Aarhus University
Title of PhD thesis: Interaction Dynamics and Control of Collaborative Industrial Mobile Robot Manipulators for SME Manufacturing
Contact information: Zhengxue Zhou, e-mail: zhouzx@mpe.au.dk, tel.: +45 52743844
Members of the assessment committee:
Associate Professor Huapeng Wu, Laboratory of Intelligent Machines, Lappeenranta University of Technology (LUT), Finland
Professor Poramate Manoonpong, Maersk Mc-Kinney Møller Institute, University of Southern Denmark, Denmark
Professor Ole Balling (chair), Department of Mechanical and Production Engineering, Aarhus University, Denmark
Main supervisor:
Associate Professor Xuping Zhang, Department of Mechanical and Production Engineering, Aarhus University, Denmark
Language: The PhD dissertation will be defended in English

The defence is public.
The PhD thesis is available for reading at the Graduate School of Technical Sciences/GSTS,
Jens Baggesens Vej 53, building 5221, 8200 Aarhus N.