Novel method for measuring gaseous emission dynamics from open sources
PhD defence, Friday 13 January 2023. Yolanda Maria Lemes Perschke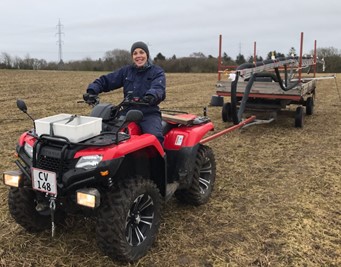 During her Ph.D studies, Yolanda M. Lemes covered findings in the field of measurement methods for ammonia (NH3) and methane (CH4) emissions from agricultural sources, documentation of emissions from farm-scale sources, and mitigation techniques for reducing emissions from manure storage systems.
Her thesis assessed a novel measuring system that uses line-average concentration measurements with a closed analyzer, specifically a cavity ring-downspectroscopy (CRDS). This novel measurement approach, together with the well-established IDM, enables quantification of NH3 and CH4 emissions from farm-scale agricultural sources: slurry tanks, manure stockpiles, and a whole farm.

The PhD study was completed at Department of Biological and Chemical Engineering, Aarhus University, Faculty of Technical Sciences, Aarhus University.
This summary was prepared by the PhD student.

Time: Friday, 13 January 2023 at 13:00
Place: Building 3130, room 303, Department of Biological and Chemical Engineering, Aarhus University, Gustav Wieds Vej 10C, 8000 Aarhus C
Title of PhD thesis: Novel method for measuring gaseous emission dynamics from open sources
Contact information: Yolanda M. Lemes Perschke, e-mail: ymlp@bce.au.dk, tel.: +45 52226914
Members of the assessment committee:
Professor Charlotte Scheutz, Environmental Engineering, Technical University of Denmark, Denmark
Research Scientist Andrew VanderZaag, Agriculture and Agri-food, Canada
Associate Professor Thomas Seviour (chair), Department of Biological and Chemical Engineering, Aarhus University, Denmark
Main supervisor:
Associate Professor Anders Feilberg, Department of Biological and Chemical Engineering, Aarhus University, Denmark
Co-supervisor:
Senior Consultant Tavs Nyord, Concito, Denmark
Postdoc Jesper Nørlem Kamp, Biological and Chemical Engineering, Aarhus University, Denmark
Language: The PhD dissertation will be defended in English

The defence is public.
The PhD thesis is available for reading at the Graduate School of Technical Sciences/GSTS,
Jens Baggesens Vej 53, building 5221, 8200 Aarhus N