Medical Innovation Day at Health – you're invited
The Graduate School of Health invites you to their Medical Innovation Day on 27 October 2022 - an event aimed to help you discover how your academic background and skills can contribute to the challenges met by the health care sector.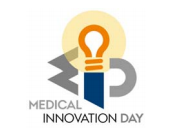 You can attend the Medical Innovation Day by either the Challenge Track, the Innovative Ideas Track, or simply as a guest/audience, and let yourself inspire by the pitches on innovative ideas and case solutions. Also, all registered attendees will sit in on an exciting panel debate on the theme "What are the implications of post-marketing studies on innovation and future clinical trials?
Read more about the event and sign up here. Deadline for registration is 3 October 2022.