Can intact seaweeds be used as a milk supplement to combat diarrhoea among young calves?
PhD defence, Friday 6 January 2023. Milani Bhagya Samarasinghe.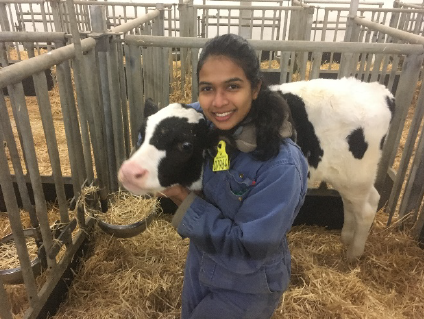 During her PhD studies, Milani Bhagya Samarasinghe investigated the functional properties of intact seaweeds as gut health promoting milk supplements for preweaning dairy calves. Intact seaweeds are of special interest in young animal nutrition mainly due to documented gut-health promoting effects of seaweed-derived extracts in piglets. However, knowledge on similar effects in preweaning calves is scarce. Therefore, Milani Bhagya Samarasinghe studied how three different types of seaweeds; Ascophyllum nodosum, Saccharina latissima and Ulva spp., supplemented in the milk at a dose of 5% (DM basis) affected gut health, systemic immune response, and overall growth performance of the preweaning dairy calves. The PhD study was completed at Department of Animal and Veterinary Sciences, Faculty of Technical Sciences, Aarhus University.
This summary was prepared by the PhD student.
Time: Friday, 6 January 2023 at 10:00
Place: 8814-3075, Auditorium, Department of Animal and Veterinary Sciences, Aarhus University, Campus Viborg, 8830 Tjele.
Title of PhD thesis: Intact seaweeds as functional milk supplements for preweaning dairy calves
Contact information: Milani Bhagya Samarasinghe, e-mail: bhagya.samarasinghe@anivet.au.dk, tel.: +45 7141 8443
Members of the assessment committee:
Senior Scientist Harald M. Hammon, Institute of Nutritional Physiology ("Oskar-Kellner"), Leibniz Institute for Farm Animal Biology (FBN), Dummerstorf, Germany
Researcher Leonel N. Leal, Team Lead - Calf & Heifer Nutrition, Nutreco, Amersfoort, the Netherlands
Senior researcher Stig Purup (chair), Department of Animal and Veterinary Sciences, Aarhus University, Denmark
Main supervisor:
Senior researcher Mogens Vestergaard, Department of Animal and Veterinary Sciences, Aarhus University, Denmark
Co-supervisor:
Senior Researcher Lorenzo Enrique Hernández-Castellano, Institute of Animal Health and Food Safety, Universidad de Las Palmas de Gran Canaria, Spain
Centre Director Jakob Sehested, International Centre for Research in Organic Food Systems, Foulum, Denmark
Language: The PhD dissertation will be defended in English

The defence is public.
The PhD thesis is available for reading at the Graduate School of Technical Sciences/GSTS,
Jens Baggesens Vej 53, building 5221, 8200 Aarhus N